We use programmable lace braiding machines and patterning technology to make fabrics that demonstrate the potential of dynamic interconnected 3D textile structures.
Programmable Lace Braiding Machines: Invented in the early 1900's to produce reproductions of handmade lace. Originally these machines used complex punch cards to direct the paths of the machine's spindles. The machines were re-manufactured in the early 2000's to function electronically with CAD systems.

Patterning: The process of programming the interaction between spiraling filaments. Brad Jamison of TEF Braids invented new patterns for spiraling filaments that link the members of a plexus together, providing the fluent and resilient qualities of nature. These patterns are the foundation of Tensengral's new fabrics having integrated form and function.

Balanced Tension Distribution: The fluid transfer of energy along spiraling paths wherein the links between members facilitate dynamic movement. Pressure placed on a linking members can be distributed throughtout a plexus by the unbound nature of a links which allow the tension to be transferred.
We embody full circle innovation with our new designs, materials and zero waste, efficient manufacturing process, that address performance and sustainability issues using only unified filament networks.
DESIGN Innovation:

We've created new ways of designing products from linked and interlaced filament networks that demonstrate the value of unified, unbound, integrated structures for function, longevity and comfort while also using fewer resources to achieve performance objectives.

MATERIAL Innovation:

We've patented ways to link and interlace filaments in creation of zonally patterned fabrics that possess conformal, supportive behaviors due to their filament arrangements.

MANUFACTURING Innovation:

We've developed zero waste, efficient manufacturing methods using repurposed heritage machinery with a new patterning technology, in creation of 3D, functional textiles.
Tree-climbing to bird-maker to lace-maker, Jamison's designer/maker story is authentic, powerful and compelling.
Bradford C. Jamison: Developer of TEF Braids and Tensengral for more than two decades. He is a self-taught product designer, manufacturer, inventor and the only one in the world practicing this technology. Brad lives and works in the Adirondack mountains of New York. He become comfortable with ropes and "balanced tensions" during his 2 decade career as a tree-climber/arborist.

The initial goal of Brad's lace-making endeavors was to develop lightweight, impact resistant, durable and flexible composites for use on the tail portion of the Birdball invention. The Birdball was a no-roll play ball comprising a foam ball head integrated into a soft composite tail portion that you kicked, punched and batted with rackets that Brad patented in 2007.
"The beauty of approaching something with full innocence is that you don't know what is what is and isn't possible - so you just try everything."
In order to design new patterns a graphic interface needed to be created that functioned a bit like a video game wherein the goal was to create unbroken paths within a 96 and 128 spindle framework. These "pattern drawings" would be transferred to a computer program that controlled the yarn spindles. Patterns were tested to see how smoothly they would run on the machine and how well they would merge with other patterns.

Designing and testing new fabrics became the foundation for the art. We tested hundreds of filament orientations and patented two families of patterns for functional fabrics that could be produced flawlessly using the braiding machines.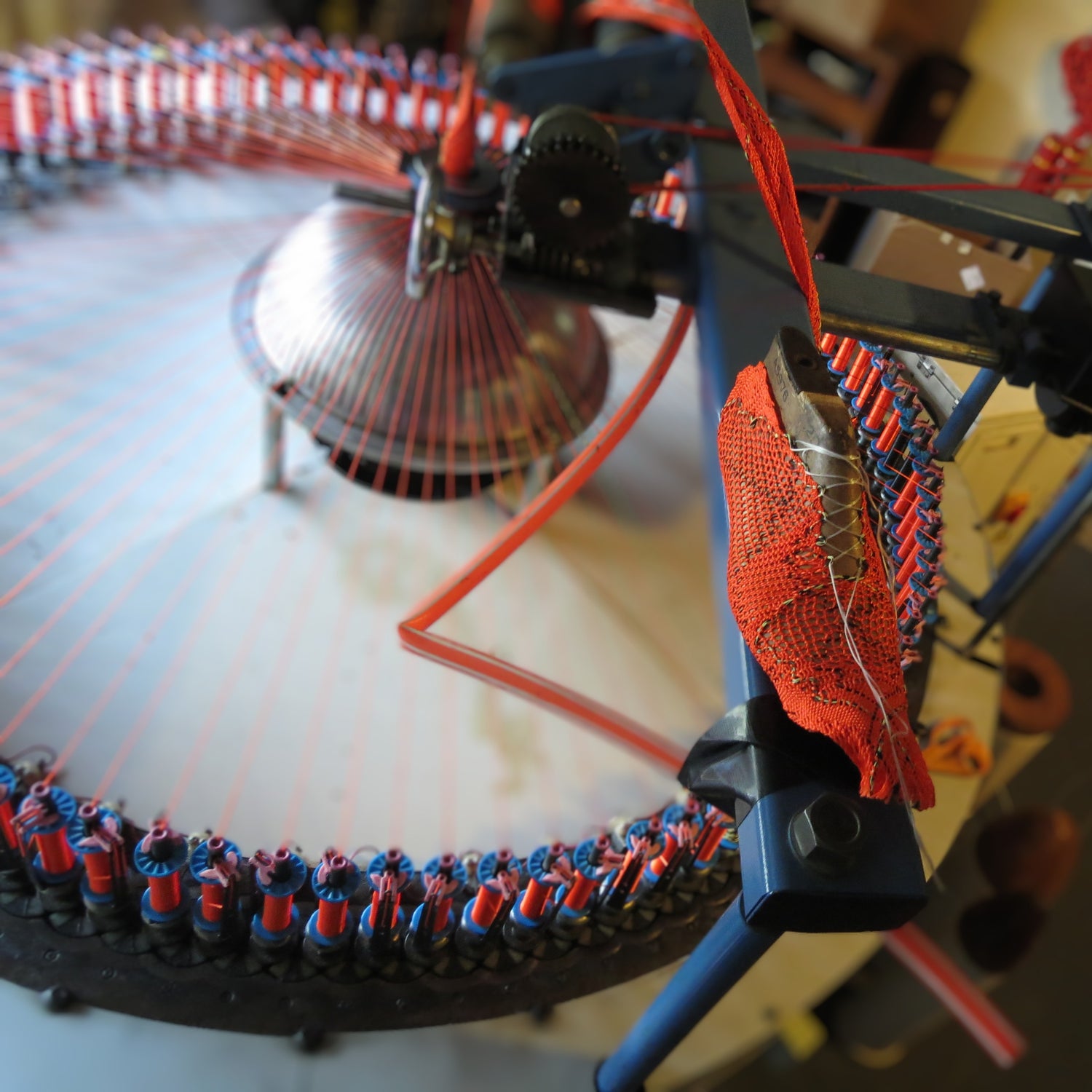 The Evolution of Braiding & Lace
As the art evolved pattering found it's way into many different product designs from footwear and bodywear to medical and aerospace applications. Intricate filament structures could be created in one additive no waste step using virtually any filament.
Programmable braiding is akin to 3D Printing, Digital Knitting and Radial Braiding, as each of these is capable of zero waste or "additive" manufacture.
What are the ADVANTAGES of a braid over other materials?

A braid provides inherent structure due to its ability to lock-out in extension.
A braid is tension distributive which addresses rubbing, chaffing and slipping.
A braid will hold when under tension
Programmable Braiding provides greater diversity of pattern for function than other processes.

What are the BENEFITS of programmable braiding technology?

The benefit to the consumer is a new kind of fluid comfort and security that uses fewer resources, creates less waste without compromsing performance, longevity, and beauty. The benefit to the industry is manufacturing efficiency and reduced resource consumption.
Our Mission is to provide examples of balanced tension distribution in design, manufacturing, business and social environments, that demonstrate the efficiency and potential of dynamic structures and organizations that are interconnected.
Through patterning and the practice of making and testing unified filament networks we've learned the value and efficiency of balanced tension distribution for comfort and security.

We practice these principles in product design and manufacturing models by shifting from a pieced together, non-unified mindset to one that implements the benefits of fluid, integrated structures.

The body-wear we produce provides the experience of comfort and security, using a minimum of resources that work fluidly together to balance the tensions of movement.

The principles and practice of balancing tension is the foundation for our way of doing business, making decisions and interacting with the world in the fairest, most efficient manner we can conceive of.