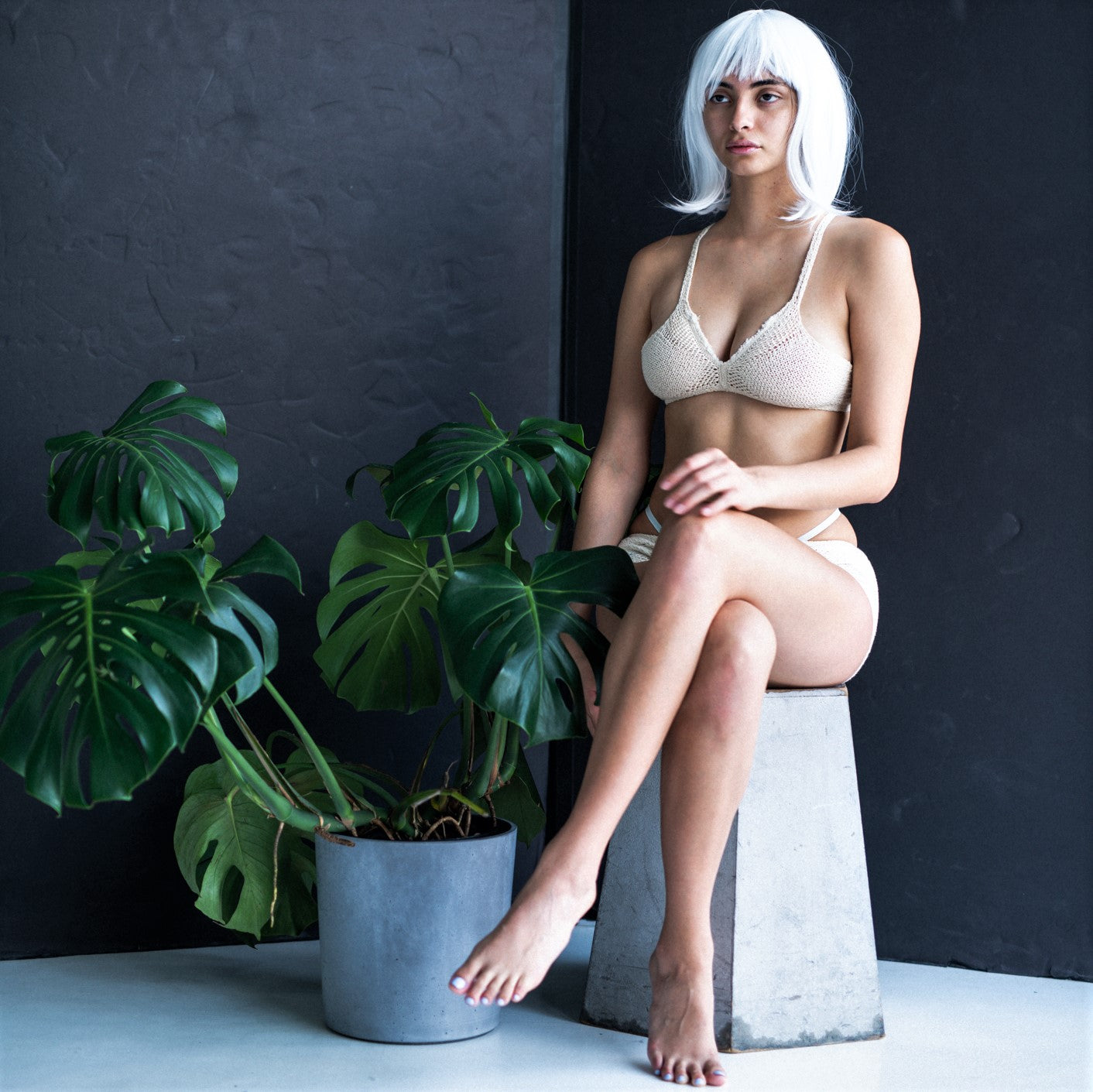 AMBI
"New York-based Tensengral has merged together antique and modern technology to create a whole new type of lingerie fabric, one they describe as "performance lace". "
~ Estelle Puleston Esty Lingerie
AMBI Review
Collapsible content
Are AMBI products crocheted, woven or knitted?

AMBI products are not crocheted, woven or knitted...they are "braided" using re-purposed century old lace braiding machines.

AMBI's fabric works with the weight and motion of one's breasts by distributing the tensions around the bra's unified linked structure. AMBI's fabric has an inherent desire to self-balance via subtle shifts in it's pattern architecture, resulting in a hybrid fabric that exhibits the fluidity of a knit and the structure of a braid.

ALX Pattern
Is AMBI Lace?

AMBI showcases a new type of "performance" lace that is produced using circular lace braiding machines. These machines historically made narrow bands of lace. Over the last decade we've developed a lace-making technology we call "Patterning" which uses these century old machines in a new way.

AMBI's design comprises one strip of fabric with a tapestry of patterns that are placed with purpose.  Seamlessly integrated into the strip of fabric are lightly elasticized straps and under band.  A sewn or adhered seam binds the ends of the bra-fabric strip.

"Patterning" is our textile process that transforms lace braiding machines to a one- step method of production for bodywear that provides support with nothing else but tensioned filaments.
What does "AMBI" mean?

Ambi is a prefix of Latin origin, meaning around, round about, on both sides.  Tensengral's AMBI is a versatile 2-Way line of bodywear that will form to your contours backwards or forward.
Are all AMBI styles 2Way?

Each AMBI cut has two distinct and functional wearing options in one bra.  The AMBI Classic has the addition of lacing and tensioning yarns for personal taste fit and function fine tuning.
How do I measure for AMBI best fit?

AMBI Band measurement is based on an under-the-breast average measurement between inhale and exhale.

AMBI Cup measurement is calculated by the difference (inches/cm) between under-the-breast (band) measurement and around-the-breast measurement.

(Reference Chart Below) or use the Bra Size Calculator
How does AMBI's "balanced tension support" feel?

AMBI provides a cradle and hug function for holding by way of filaments that distribute the tensions of movement through their united linked structure. There are a minimum of elastic strands used in the straps. under-band and under-arm.

Our testers have described balanced tension support to feel like zero gravity or swimming.  The fluid linked and interlaced fabric molds and holds without pinching or pressure points.  Many have commented that it feels as if they were wearing no bra at all yet felt comfortably held, similar to a hammock.
How does AMBI's fabric conform and mold without using elasticized fibers?

AMBI's fluid linked and interlaced fabric conforms and molds to shapes when under tension.  The unbound filament network performs similar to a rope hammock, shape-shifting with movement and changing forces.  The fabric endeavors to produce a state of balanced tension wherein tension exists equally upon all of the fibers so there is no rubbing or undue stress upon any singular area, including the straps or band.
What is the "tensioning yarn" used on the AMBI Classic Cut?

The tensioning yarn is interlaced into the Hi Side center of the Classic bra.  This yarn utilizes a slip-knot  to adjust the tension around the bra, gathering the fabric on the Hi side front, and shortening the overall width of the bra fabric.  Tension can be varied to accommodate aesthetic and function preferences.  The Classic Cut also has tie-able lacing on the Lo side for further adjustments.
What is the best style for a low/moderate intensity work-out?

AMBI Active is our version of a "sports bralette" for low/moderate intensity workouts.  When fitted tightly, the non elasticized filaments that comprise the body of the bra support what is natural in a gentle, all round balanced way.
Are the AMBI straps adjustable?

The lightly elasticized straps on the AMBI are not adjustable.  The straps are seamlessly integrated with the body of the bra.  When fit properly the straps do not slip or fall off of the shoulders.  They tend to be set closer to the neck and for some style are visible under a tee-shirt's neckline. 
Is AMBI available in colors?

We are presently not offering AMBI in colors other than the natural color of the yarns.  The Supima® cotton yarn that we use is a soft ivory, and the Tencel® yarn is white. 

The Winter Collection use both Supima® and Tencel® in their fabric design, creating a soft, neutrally colored random pattern.  The Summer Collection uses only Tencel® in their fabric design and is white in color.

On occasion we will add colored yarns for highlighting and offer these as a special collection.
Will AMBI mold to uneven or asymmetrical breasts?

AMBI's non-elasticized fabric should mold to uneven and asymetrical breasts, and then attempt to balance itself so there is no wrinkling or buckling.  AMBI's non-rubbing qualities make it a practical alternative for post-breast surgery wear.
Is AMBI sustainably manufactured?

AMBI is produced with care for the future by using a virtually zero-waste efficient manufacturing process that embraces "less-is-more" design principles by providing function in a minimalist way, using only patterned filaments. Learn More About Our Sustainability


What does Tensengral mean?

Tensengral means to be in a state of balanced tension.  Balanced tension is defined as:  a state where tension exists equally upon all members.  Balanced tension is produced by the patterned Linked and Interlaced fabric in Tensengral Bodywear. 
What if you don't have my size or cut in stock?

If we don't have your chosen size and cut in stock, or if you need something out of the ordinary, please contact us at info@tensengral.com and we will be in touch soon after it has been produced.
How long does it take to receive my order?

If we have your size and cut in stock we will ship within a couple days.  If we have to produce your size and cut time-frames will vary based on our production schedule.  We ship domestically via USPS which typically takes 3-5 days.
Can I return or exchange an item?

We appreciate your willingness to try something new and would like to make it right if the product doesn't meet your expectations.  Please reach out to us at info@tensengral.com so we can arrange for an exchange or refund.  We hope your will also share your thoughts and wearing experience so we can evolve the designs and technology to better serve our community in the future. 
Can I be a Tensengral Tester?

Be in touch if you would like to test new products and provide feedback and images for use on our websites and media outlets.
info@tensengral.com
Pay What You Can

We want anyone who wants to try AMBI to have the opportunity to do so...don't let the price-tag deter you.  Contributions of any amount and kind are appreciated.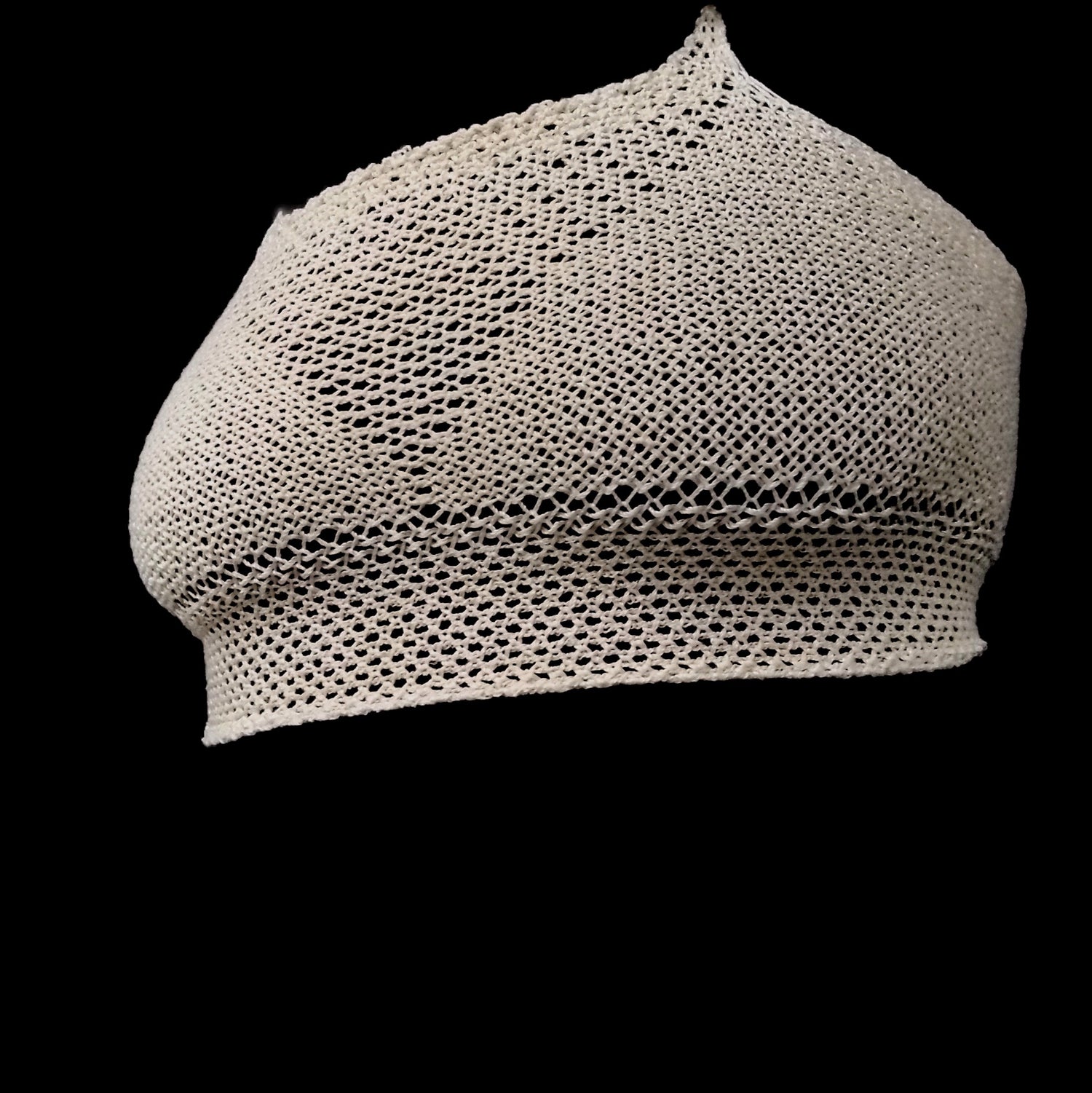 AMBI's one piece, textural, woven beauty makes them distinctive in feel and form. These small-batch hand-crafted bralettes cradle and hold providing a fabric that stays with you in your waking and sleeping -- shaping to your contours by nature of patterned, inner-connected unbound, double helix filament patterns.
Shop AMBI